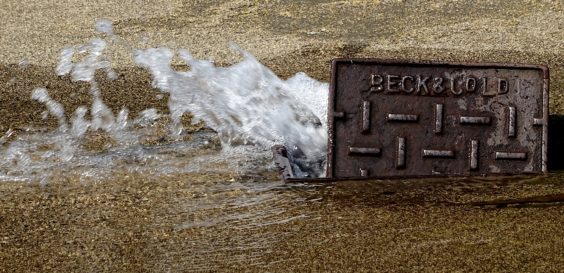 In Naabani Twin Stars, LLC v. St. Paul Fire & Marine Insurance Co., the Tenth Circuit Court of Appeals held that St. Paul Fire and Marine Insurance Co. has no duty to cover damage that occurred when a building's underlying soil collapsed, but not the building itself, due to a burst water pipe under an adjacent parking lot.
In July 2016, a waterline under a parking lot, near a building owned by Naabani Twin Stars LLC and Twin Stars Limited, ruptured. Two geotechnical consultants assessed the damage and found that the water from the burst pipe caused soil compression and settlement, which in turn caused damage to the building — including cracks in the floor, buckling of the exterior, and the inability to open and close doors.
Following the inspection, Twin Stars submitted a claim to Travelers unit St. Paul Fire and Marine Insurance Co., under its all-risk and additional coverages policy. St. Paul denied coverage, based on its conclusion that the building was not under a "state of collapse," as per the policy.
Twin Stars filed a lawsuit against St. Paul, seeking coverage under its policies and charging bad faith. The federal district court in Las Cruces, New Mexico, ruled in St. Paul's favor, holding that the building did not suffer a "collapse." The court explained that the policy defined "collapse" as an "abrupt falling down or caving in of a building or structure."
The district court also found that the anti-concurrent causation clause controlled and therefore displaced any benefit that insureds might have received from the efficient proximate cause doctrine, which has not been adopted by New Mexico through statute or as a matter of public policy. Moreover, the district court found that an exclusion barred coverage for "loss caused directly or indirectly by any earth movement, whether natural or man-made," including shifting soil caused by underground water movement, as in this case.
A unanimous three-judge appellate court panel affirmed the district court's ruling, stating that, at most, the building suffered damage that was "explicitly excluded" from the policy's definition of collapse. The panel also stated that Twin Stars failed to provide sufficient evidence to demonstrate that St. Paul had acted in bad faith. Specifically, Twin Stars was unable to convince the panel that St. Paul acted in bad faith by refusing to further investigate whether the leak caused gradual or abrupt soil movement. The panel found that regardless of the answer to that hypothetical inquiry, the damage would still be precluded by the earth movement exclusion because the damage at issue was caused by soil compression and settlement.