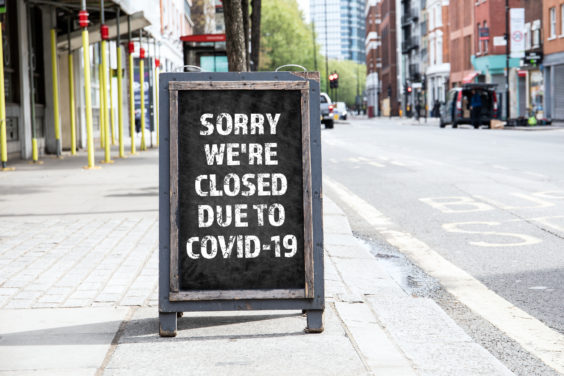 With governments across the world ordering the shutdown of restaurants, bars, and other "non-essential" businesses due to the COVID-19 pandemic, business interruption insurance claims are, not surprisingly, on the rise. While typical commercial property policies require "direct physical loss or damage" to property — a requirement that is unlikely satisfied by the shutdowns — policyholders are getting creative, alleging that the potential presence of the novel coronavirus on the surfaces of their premises is direct physical damage. Unconvinced, insurers are denying these claims, in many instances without further investigation or inspection of the insured premises. As these disputes make their way into the courts, a new trend is beginning to emerge — in addition to seeking coverage for their losses, insureds are including counts for bad faith premised on the insurers' purported failure to reasonably investigate the COVID-19 claims.
One such case, Big Onion Tavern Group LLC vs. Society Insurance Inc., was filed by several Chicago restaurants in the Northern District of Illinois on March 27, 2020. In addition to seeking a declaration that their losses due to the shutdown were covered by their commercial property policies, the plaintiffs also assert that Society acted in bad faith by immediately denying the claims "without conducting any investigation, let alone a 'reasonable investigation based on all available information' as required under Illinois law." In support, the plaintiffs attached a message from Society's CEO and president to Society's agents, stating that COVID-19 claims were unlikely to result in business interruption coverage. According to the plaintiffs, this message supports their theory that Society blanketly denied their claims "without conducting reasonable investigations based on all available information."
Similar allegations were made in Mace Marine Inc. v. Tokio Marine Specialty Insurance Co., filed in Monroe County, Florida, on April 6, 2020. The insured in Mace Marine, a Florida Keys dive shop, asserted that it suffered direct physical loss or damage to property due to the potential presence of the coronavirus on its premises, but its claim was denied. The insured subsequently sued the insurer seeking coverage and also brought a statutory bad faith claim. According to the policyholder, the insurer acted in bad faith because it "formally denied the claim on March 30, 2020 without conducting any substantive investigation into the claim. The insurance company did not attempt to inspect the premises, nor did they request any photographs or send out any experts or field adjusters to evaluate the claim." The insured contends that these actions constituted "willful, wanton, immoral, unlawful, malicious and/or deceptive claims handling practices."
A third suit alleging bad faith as a result of a COVID-19 denial was brought in Harris County, Texas, alleging that the insured acted in bad faith by failing to conduct "a reasonable, full and fair claim investigation."
These suits, all of which are in their nascent stages, will likely present similar legal issues:
What constitutes a "reasonable investigation" of a COVID-19 business interruption claim given that these claims should not be covered in the first place?
If the COVID-19 claims are judicially determined to be uncovered, can an insurer nevertheless be liable for bad faith based on the purported failure to investigate?
Does an insurer's categorical denial of COVID-19 claims evidence a general business practice of bad faith conduct?
If an insurer's failure to investigate a COVID-19 claim is indeed in bad faith, what extra-contractual damages is the insured entitled to receive?
These COVID-19 bad faith cases are likely just the tip of the iceberg, with more to be filed even after the shelter-in-place orders are eventually lifted and life goes back to normal. How the courts rule on these issues remains to be seen, but it is certain that the insurance industry will be watching closely.