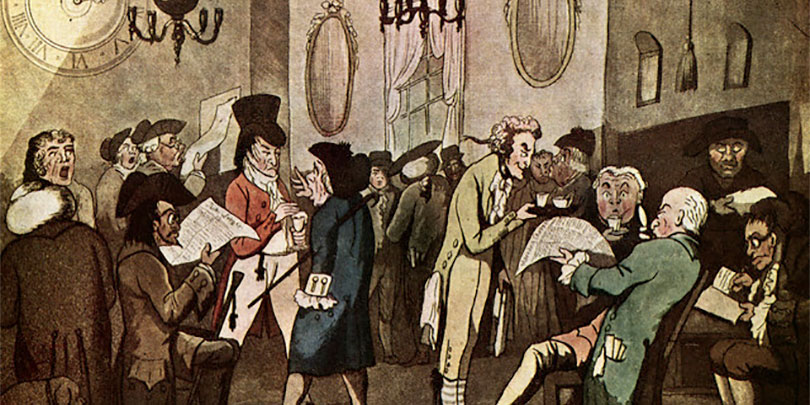 It is impossible today to imagine a world without insurance.  Individuals can't buy houses or cars without insuring them against loss.  Businesses cannot operate without any number of coverages—against damage to their property and equipment, against interruptions to their operations and against liability to employees, customers and the world at large.  But 'twas not ever thus.  Recently, in a dispute over whether a group of Lloyd's underwriters could establish diversity jurisdiction, Certain Underwriters at Lloyd's, London Subscribing to Policy No. GL-2918-028 v. Wenhaven, Inc., No. 3:14-cv-00003 (D.V.I. Sept. 16, 2014), a federal court had occasion to explore how it all began.
The Case of the Wenhaven Wendy's
Peter Kumpitch is president and shareholder of Wenhaven, Inc., a corporation formed in the U.S. Virgin Islands that leases commercial properties, including a Wendy's restaurant.  After Wenhaven terminated a Wendy's employee, Clydella Stapleton, she sued for alleged violation of the federal Fair Labor Standards Act, the Virgin Islands Fair Labor Standards Act, wrongful termination and defamation.  Mr. Kumpitch and Wenhaven sought defense and indemnity under a commercial general liability policy issued by "certain underwriters at Lloyd's of London."  Lloyd's initially disclaimed coverage, but it subsequently accepted the defense, subject to a complete reservation of rights, after Ms. Stapleton amended her complaint to include a claim for violations of the duty of good faith and fair dealing.  Lloyd's then filed a declaratory judgment action in federal court in the Virgin Islands, seeking a finding that it had no duty to defend and indemnify.
The Lloyd's suit alleged that the court had diversity jurisdiction over the action under 28 U.S.C. § 1332, because it was an action between "citizens of different States."  Wenhaven moved to dismiss, on the ground that Lloyd's was not a single entity, and that its complaint failed to demonstrate complete diversity—that is, it failed to show that none of the underwriters that subscribed to the policy was a citizen of the Virgin Islands.  "The general rule . . . is that federal courts must look to the individuals being represented rather than their collective representative to determine whether diversity of citizenship exists."  E.R. Squibb & Sons, Inc. v. Accident & Cas. Ins. Co., 160 F.3d 925, 931 (2d Cir. 1998).  The only exceptions are for corporations, trusts and class actions, which require only minimum diversity.  "Associations of persons, including those created or protected by law, that are not corporations cannot be considered separately from its membership."  R.H. Bouligny, Inc. v. United Steelworkers of Am., AFL-CIO, 336 F.2d 160, 161-62 (4th Cir. 1964), aff'd, 382 U.S. 145 (1965).
So Who Is this Lloyd?
The insurance industry can trace its beginnings directly to the Great Fire of London, during the annus mirabilis of 1666.  Due to limitations on fire-suppression and fire-fighting technology, as well as the extensive use of wood and straw in building materials, the City was a veritable bonfire waiting to be lit.  Once it started, the fire burned for days—ultimately consuming over 13,000 houses, 87 churches, St. Paul's Cathedral and many municipal buildings.
Like modern-day freelancers tapping wifi at Starbucks, entrepreneurs and merchants in 17th-century London conducted business at their local coffee houses.  In the fire's wake, there were more than 80 coffee houses in the City of London, each with its own specialty.  The one that gave its name to the insurance industry was Edward Lloyd's Coffee House, on Tower Street.  The coffee house is gone, now; today, Lloyd's of London inhabits an interesting, "inside-out" building in the City.
What remains unchanged since the coffee house days is that Lloyd's is not an insurance company.  It is an exchange or market, where individuals or groups come together to bid on the right to insure a given risk.  These individuals are referred to as "members," "underwriters" or simply "names."  When they form groups, the groups are called "syndicates."  But the syndicates are not corporations; they are simply ad hoc associations of members or names.  It is the members or names who assume the liability for insuring the risk.
Naming Names
In response to Wenhaven's motion to dismiss, Lloyd's amended its complaint to identify the syndicates that subscribed to the policy at issue:  "Amlin P.L.C. ('Amlin'), incorporated under the laws of England with its principal place of business in London, England; The Faraday Group ('Faraday'), incorporated under the laws of England with its principal place of business in London, England; S.A. Meacock and Company, Limited, incorporated under the laws of England with its principal place of business in London, England; and Catlin Group Limited ('Catlin'), incorporated under the laws of the British Overseas Territory of Bermuda, with its principal place of business in Bermuda."
Wenhaven, however, was not impressed.  It moved to dismiss the amended complaint, arguing that Amlin and Catlin are holding companies, not subscribers to the policy; that Faraday is an informal grouping of two separate entities; and that the managing agent for the policy is Red Hook Agencies, Inc., domiciled in the Virgin Islands.  Because Wenhaven's motion was a factual challenge to subject matter jurisdiction, the allegations in the amended complaint were not presumed to be true, and the court was permitted to consider evidence outside the pleadings.
The evidence showed that Lloyd's syndicates are not the actual underwriting entities that insure the risks.  Moreover, the syndicates are not legal entities; they have no independent legal identity.  Therefore, "the majority of circuit courts to have considered the citizenship of subscribers to Lloyd's of London's insurance policies have found that where Lloyd's is suing in a representative capacity, rather than a specific name suing as an individual, each name must be diverse for diversity jurisdiction to be invoked."
Following this precedent, the court found that Lloyd's had failed to present evidence that none of the "members" or "names" that participated in the subscribing syndicates was a citizen of the Virgin Islands.   Without such evidence, Lloyd's could not carry its burden of demonstrating complete diversity for purposes of federal jurisdiction.  The court dismissed without prejudice, giving Lloyd's leave to file an amended complaint that actually establishes complete diversity.
Don't Give Up, Lloyd!
In Wenhaven, the Virgin Island District Court followed what it identified as the majority rule, but at least one federal Circuit applies a different one.  In Certain Interested Underwriters at Lloyd's London, England v. Layne, 26 F.3d 39, 43 (6th Cir. 1994), the Court of Appeals for the Sixth Circuit used a "real party to the controversy" test to affirm the district court's exercise of diversity jurisdiction.  The court was persuaded by the fact that when the insureds elected to file a counterclaim against the underwriters, they sued the underwriters' agent – Certain Interested Underwriters at Lloyd's, London, England.  Since the underwriters are British citizens and the insureds were citizens of Tennessee, the court found that there was complete diversity.
The Layne decision may be an outlier, but it provides support for a more simplified approach to the jurisdictional inquiry.  Otherwise, Lloyd's syndicates will be put through a laborious evidentiary drill before they can invoke the jurisdiction of U.S. courts.
Image source: William Holland (Wikimedia)